A Historic Month of Labor Activity!
Palestinian and US Labor Unions Call for Ceasefire in Israel-Palestine
In the midst of unspeakable violence progressing in Israel and Gaza, a ceasefire is imperative to prevent further loss of life. Israeli forces have countered Hamas' vicious Oct 7 attack with a brutal bombing campaign that has killed and injured thousands of innocent civilians – children, hostages, journalists, UN peacekeepers, and medics among others. Collective retaliation against innocent people will not de-escalate the conflict. 
Palestinian trade unions are calling on international trade unions to stand in solidarity with those who refuse to allow our labor to support genocide in Gaza. United Electrical and Radio Machine workers along with UFCW local 3000 answered the call, and they're calling on other union members to sign on. Share their call today: Ceasefire Now!
To take action as a non-union member for an immediate ceasefire, hostage exchange, and the flow of humanitarian aid to Gaza: Write to Congress!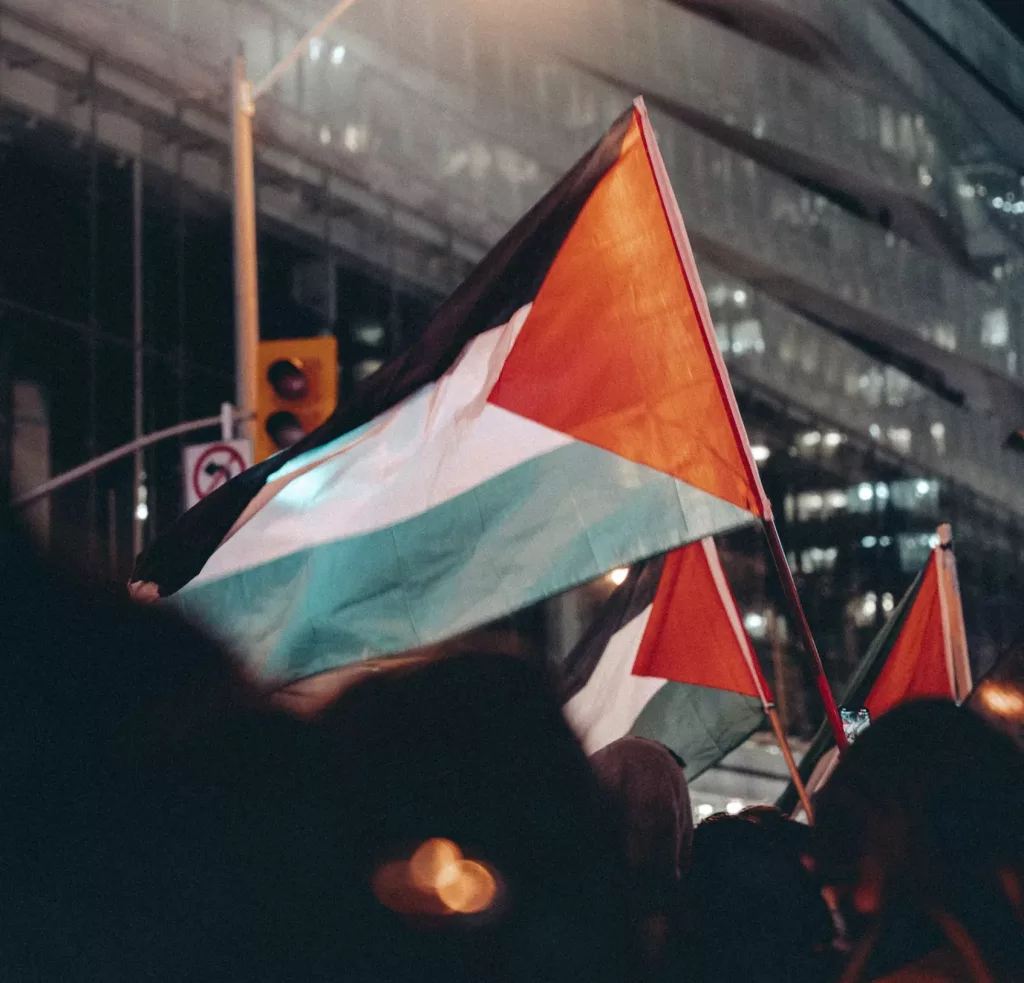 What historic month of labor activity! 
The Writers Guild of America (WGA) won a historic agreement after 5 months of holding the line. Among the biggest victories were elimination of AI used to create first drafts of scripts and a meaningful, though complex viewership based residual system, securing survival for the future of this industry.
The United Auto Workers' (UAW) "Stand Up" strike strategy is displaying innovative organizing tactics. Twenty Five Thousand UAW workers are now on strike and counting.
75,000 workers at Kaiser Permanente staged the largest 3-day strike in the healthcare industry, citing severe understaffing and unfair wages. Though no deal was reached after 72 hours, they are now threatening a week-long strike.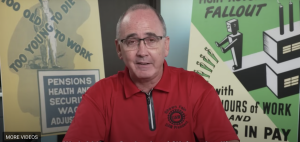 Focusing on the United Auto Workers' (UAW) contract negotiation and strike, we see that it's been revolutionary for a number of reasons.
32-hour work week: Their audacious demands such as a 32-hour work week could reverberate across all industries. We already know that a 40-hour work week, overtime pay, and weekends are now professional standards that have been won by unions in the past. Wages could also increase for workers at non-union represented automakers such as Tesla.  
Strike Strategy: The UAW's "Stand Up" strike strategy, wherein a few key plants go on strike, has caused chaos and confusion for the Big 3 Automakers. It serves to extend the UAW's strike fund while also allowing the union to make strategic moves and apply appropriate pressure based on how the contract negotiations are progressing. They still have several aces up their sleeve as we've seen with the surprise strike at Ford's Kentucky Truck Plant, outside of Louisville.
Politicians and Policy: Politicians across the political spectrum have shown support for the UAW, either rhetorically or by joining the picket line. These actions are truly historic, and demonstrates just how much political power the UAW wields. Influence at this level could give us even bigger policy wins than what we've already seen at the NLRB. (Check out our latest blog about the NLRB's Cemex decision below!)
EV Battery Just Transition: UAW President, Shawn Fain, announced a key concession from GM to include EV battery production under the UAW's national master agreement, which guarantees that those jobs will be union jobs. Ensuring a just transition to EV battery technology is also a victory for the climate justice movement in solidarity with the labor movement. 
Public Support: The incredible solidarity on the picket line with other unions (Teamsters, AFA, Starbucks United) has been remarkable to witness as support for unions and striking workers among the American public continues to rise. 
Seeing these creative tactics, disciplined organization, and historic gains solidifies yet again that when we stand together and fight, we win! 
1. Join the EWOC Media Team!
EWOC's Media Team does critical work supporting workers in campaigns that need publicity. This work includes helping to develop a social media strategy, reaching out to press, writing about the campaign for our website and newsletter, and offering trainings to workers to be spokespeople and more.
In 2024, the team will also work to grow the organization's identity beyond social media, in the media and in the larger labor landscape. This will help us build our volunteer capacity and our base by reaching far greater numbers of labor organizers and workers. This team will help us develop our own distinct voice and vision in the labor movement. The team will collaborate with all EWOC teams and especially the social media and digital team, as well as the training and organizing teams. The team will meet weekly starting in mid-November.
To apply please email [email protected]. 
2. Become an EWOC Trainer!
Are you interested in facilitating trainings for EWOC? Or running trainings in your community? If you've graduated the EWOC Foundational Training series you can now sign up for Train the Trainers on Saturday, October 28th at 1pm EST / 10am PST! 
The course will cover the principles of EWOC's Foundational Training series, as well as adult learning and popular education methodology. We will work on our facilitation skills with some of the most experienced EWOC facilitators, learn how to talk through organizing skills and worker rights, and cover how to lead powerful group discussions. 
The session is four hours long, all on zoom, with a thirty minute break in the middle. Spots are limited, so sign up today! 
3. Join an EWOC Foundational Training!
If you are new to organizing but would like to talk to your coworkers about developing a campaign at your workplace for better working conditions or unionization, one of the best first steps you can take is the Emergency Workplace Organizing Committee's Foundational Training Series, Tuesdays starting November 7th until the 28th at 8pm EST / 5pm PST. 
In four 90-minute weekly sessions, you will learn how to approach your coworkers, build a team of organizers among them, and develop a campaign. You will meet other workers who are organizing, learn helpful tools, practices, and principles for winning workplace improvements and getting a democratic voice over your working conditions. This is also a great training if you would like to join EWOC as a volunteer and support other workers organizing!
Space is limited to 200 participants–so register here today!
If you'd like to suggest a certain time that works for you for a future training you can email [email protected] and we will do our best to accommodate. You're also welcome to send any other requests or questions you have to the same email address.
Hundreds of pharmacists and technicians at Walgreens across the country walked out of their stores on Monday in protest of harsh working conditions. We're so proud to see our EWOC campaign with Pharmacy Workers United making waves!
Show your support for Bandcamp United, OPEIU Local 1010 by signing this petition as they seek recognition and contract negotiations with a new CEO.
NYC musicians' union, AFM Local 802 has organized monthly "Rally at the Gala" events in front of the Lincoln Center while they're in contract negotiations with NYC ballet management. Sign their petition here!
On the heels of VFX technicians at Marvel voting to unionize and create a local chapter of IATSE, workers at Disney have unanimously chosen to do the same!
Gavin Newson vetoed California senate bill 799, which would allow striking workers to receive unemployment benefits, despite passing in both chambers of the state legislature. We can continue to help striking workers by donating to the SAG-AFTRA foundation.
Sanitation workers from North Carolina Public Service Workers Union are striking for $5K bonuses for workers making less than $75K/year, after their scheduled raises had been frozen for 2 years during the Pandemic.
Hotel workers near LAX, represented by Unite Here Local 11, have been on rolling strikes since early July. The housing crisis in LA has exacerbated working conditions adding grueling commute times and high gas prices. 

The Culinary Workers Union, Local 226 – representing over 60,000 hospitality service workers across Nevada including servers, housekeepers, bartenders, porters, kitchen staff etc. – are in contract negotiations with hotel and casino operators in Las Vegas.  
Organizing Tip of the Month 💡
Workers Can Still Build Power Without Majority Support
by Thurman Wenzl
As prominent campaigns of the last few years have demonstrated, winning a union election does not always immediately lead to serious negotiations, improved working conditions, or better wages. The fight to improve workplace conditions can be a long one, and that's something that many organizing committees struggle with.
One strategy we should keep in mind when we can't wait for the slow work of building a large OC or calling for an election – short but impactful collective actions on the managers when workers are 'stirred up' about a shared issue. Even without majority support, we can intuit what grievances we share with our coworkers, and act when we have a group that is ready. 
Medium-sized workplaces often have serious issues in one department that aren't shared across the whole workplace; this is where minority actions can be useful. Worker groups can learn how to put pressure on the boss, and how to articulate specific demands. Workers can grow comfortable explaining that the boss needs their cooperation to get the work done.
These tactics are especially useful when workers are stirred up about a shared concern that can be fixed relatively easily. For example: 
serious heat stress conditions, resolved with ten minute breaks every hour in a cool place

unfair and serious discipline, replaced by progressive discipline 

eliminating the late notice of mandatory overtime. 
Small actions in an issue campaign can take the form of a short petition with a specific demand, or even a 'march on the boss' by a small, but organized group at the start of the shift. To be effective we should think about the details – 1) who will speak, 2) avoid making threats, and 3) make it clear that you're not threatening to quit, but only trying to make work better. Especially in smaller workplaces, the lead group could be as small as 5-6 workers, communicating that they're speaking for a larger group. Sometimes these actions will accomplish small gains, which will serve to encourage workers 'on the fence' to believe that change is possible.
In one case, a group of workers in a large industrial bakery in Chicago won heat stress breaks with a small petition, backed up with community supporters 'visiting' the plant. Near Cincinnati, a small group of Amazon workers won religious accommodation with rest breaks for a group of Muslim workers observing Ramadan. 
Sometimes the boss will be upset about this sort of action. Workers should calmly explain why small changes will be easy to implement. They ought to keep it positive, explaining that they want to improve the workplace to set workers up for success. If the boss threatens workers with firings, remind them it's against the law and that it might be easier to negotiate a compromise. He needs the workers to get the job done.
These actions are not a substitute for a union drive, but rather a way for workers to learn how to pressure the company if they move towards a union election down the road. By adding this tactic to our arsenal, we'll sustain our organizing efforts for longer.
Want to talk with a workplace organizer? Contact us and an organizer will get in touch with you within 72 hours.
What is the NLRB's CEMEX decision, and will it make unionizing easier? – by Amary Wiggin
Our latest researched blog post is an analysis of the NLRB's CEMEX decision. Amary Wiggin discusses its far-reaching effects on labor organizing and how we can utilize this newly established precedent in our arsenal of tools to assert our rights. A 6-minute read that is well worth your time! Read the full blog here
OCTOBER 5
1976 – The UAW ends a three-week strike against Ford Motor Co. when the company agrees to a contract that includes more vacation days and better retirement and unemployment benefits.
Solidarity,
Team EWOC
EWOC is a collaboration between the Democratic Socialists of America (DSA) and the United Electrical, Radio and Machine Workers of America (UE). We depend on small-dollar donations to provide frontline workers with the support they need to fight for what they deserve. Click here to make a contribution that will help fund our work.
Sent via
ActionNetwork.org
. To update your email address, change your name or address, or to stop receiving emails from Emergency Workplace Organizing Committee, please
click here
.