Learn more at this event on Tuesday, July 13!
"No one wants to work anymore"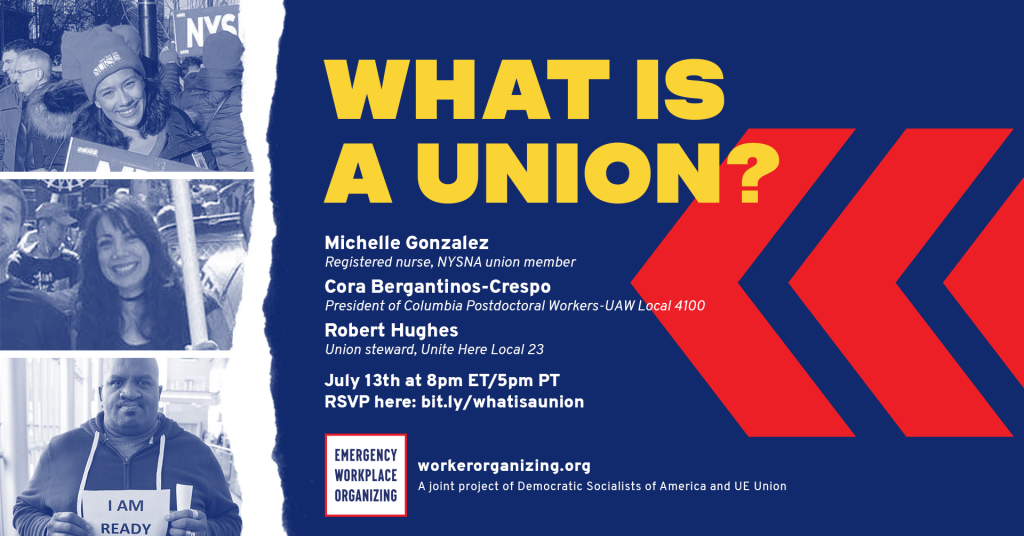 Signs on restaurant doors and social media posts decry the poor conditions and low wages at fast food restaurants, convenience stores, and groceries. Amazon workers around the country face unsafe working conditions daily. A national conversation about labor is taking place and late stage capitalism is on full display. 2021 is ripe for worker organizing and we have a responsibility to take up that opportunity.
Labor unions can not only create a more democratic workplace with higher wages and better working conditions– they are also the foundation for radical social change. Historically, we know change can only be won by the efforts of a united working class. The workplace is where people from all parts of the working class, who might be otherwise separated by race, politics, or other differences can come together to win real change.
Organizers face an uphill battle when trying to organize workplaces. Because organized labor is in direct opposition to maximizing capital, corporate leaders and even small business owners often resist unionizing efforts of their workforces with extreme measures. Management might have one-on-one conversations with employees who are trying to organize or hold mandatory anti-union meetings. Managers have even gone so far as to plaster anti-union propaganda in bathrooms like Amazon did to its workers in Bessemer, Alabama.
EWOC will host a discussion on Tuesday, July 13th at 8pm ET with three workplace organizers. Cora Bergantinos-Crespo is a geneticist and the president of Columbia Postdoctoral Workers-UAW Local 4100, Michelle Gonzales is a registered nurse and a New York State Nurses Association (NYSNA) organizer, and Robert Hughes is union steward of Unite Here Local 23 and Co-chair of Central Indiana DSA.
Join the discussion Tuesday, where panelists will talk about the basics of labor organizing, and what a union can do for working people. This event is a great opportunity to learn the fundamentals of workplace organizing and ask questions from experienced labor organizers.